Today was the first time I had Cuban food. The Ropa Viejo (it means "old clothes" it contains shredded beef stew with rice) was okay..it costed too much for the amount of meat that came with the platter. Mike got the Cuban steak sandwich....it was pretty damn good. After we finished eating I watched the girl make another sandwich for the guy next to us. It was pretty interesting. I wanted to take a photo of her and also of the food....but I didn't have the camera with me.
BUT this is what we had for dinner yesterday.
This time Mike actually ate the Salmon....and he liked it.
it's Salmon...in case you think it's something else...It was marinated with Montreal steak seasoning...yeah it's for beef, but fish is close enough....anyway....the seasoning plus balsamic vinegar, extra - virgin olive oil...garlic powder...and crushed red pepper)...and some lime. =) BTW Mike just told me that Montreal means Royal Mountain...I told him that I think it means "bridge." It was a guess....I told him it's close enough...yeah right.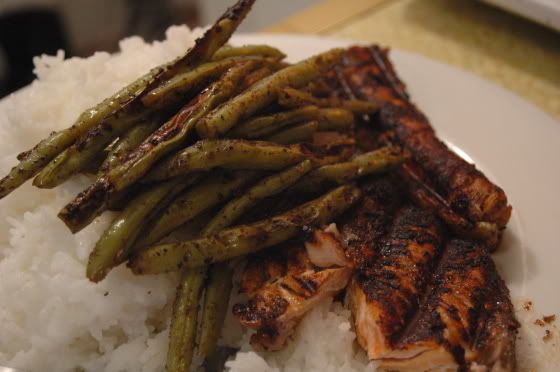 I am going to TRY to make Tom Yum (hot and sour soup) on Thursday....and Yum Nurr on Friday...that's if we eat at home. We're suppose to pick up our pottery on Thursday so I am excited!
Thanks for reading!
Labels: Fish Dish